Left Emphysematous Pyelonephritis in a 44-year-old Female with Diabetic Nephropathy from a Tertiary Healthcare Facility in Southern Nigeria: A Case Report
Keywords:
Diabetic nephropathy, fever, left emphysematous pyelonephritis
Abstract
This is a case of a 44-year-old lady living with type 2 diabetes mellitus for 7 years with poor adherence to therapy and complicating diabetic nephropathy presenting with a 2 weeks' history of high-grade continuous fever and left flank pain with associated nausea, vomiting and frothiness of urine. She denies previous urological disease. Physical examination revealed a moderately dehydrated, febrile (T=39.2̊ C) and pale young lady with tachycardia and tachypnea. Her left kidney was ballotable, tender with a positive punch sign on the left renal angle. Her urinalysis revealed numerous pus cells and leucocytes, her abdominal ultrasound revealed an enlarged left kidney measuring 15x7.58cm with irregular outline and areas of hyper-echogenicity within the cortical region casting dirty acoustic shadows in keeping with left Class 3A emphysematous pyelonephritis. Her abdominal CT further confirmed this diagnosis. She was managed conservatively with intravenous ceftazidime and Tinidazole with adequate fluid therapy. She was discharged home after 2 weeks of hospitalization. She is being followed up in the Nephrology clinic of our hospital.
References
Ubee SS, McGlynn L, Fordham M. Emphysematous pyelonephritis. BJU Int 2011;107(9):1474–8.
Yao J, Gutierrez OM, Reiser J. Emphysematous pyelonephritis.Kidney Int .2007;71(5):462–5.
Ágreda Castañeda F, Lorente D, Trilla Herrera E, Gasanz Serrano C, Servian Vives P, Iztueta Saavedra I, et al. Extensive emphysematous pyelonephritis in a renal allograft: case report and review of literature. Transpl Infect Dis. 2014;16(4):642–7.
Huang JJ, Chen KW RM. Mixed acid fermentation of glucose as a mechanism of emphysematous urinary tract infection. 1991;146(1):148-151.
Huang JJ TC. Emphysematous pyelonephritis: clinicoradiological classification, management, prognosis, and pathogenesis.Arch Intern Med. 2000;160(6): 797-805.
Hudson MA, Weyman PJ, van der Vliet AH, Catalona WJ. Emphysematous Pyelonephritis: Successful Management by Percutaneous Drainage. J Urol. 1986;136(4):884–6.
Khaira A, Gupta A, Rana DS, Gupta A, Bhalla A, Khullar D. Retrospective analysis of clinical profile prognostic factors and outcomes of 19 patients of emphysematous pyelonephritis. Int Urol Nephrol. 2009;41(4):959–66.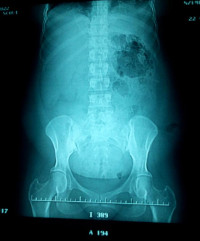 Downloads
How to Cite
Eleki, B. J., & Emem-Chioma, P. C. (2023). Left Emphysematous Pyelonephritis in a 44-year-old Female with Diabetic Nephropathy from a Tertiary Healthcare Facility in Southern Nigeria: A Case Report. The Nigerian Health Journal, 23(1), 570–576. Retrieved from https://tnhjph.com/index.php/tnhj/article/view/654
Section
Case Report and Series
License
Copyright (c) 2023 Journal and Publisher
This work is licensed under a Creative Commons Attribution-NonCommercial-NoDerivatives 4.0 International License.
The Journal is owned, published and copyrighted by the Nigerian Medical Association, River state Branch.  The copyright of papers published are vested in the journal and the publisher.  In line with our open access policy and  the Creative Commons Attribution License policy authors are allowed to share their work with an acknowledgement of the work's authorship and initial publication in this journal.
This is an open access journal which means that all content is freely available without charge to the user or his/her institution. Users are allowed to read, download, copy, distribute, print, search, or link to the full texts of the articles in this journal without asking prior permission from the publisher or the author.
The use of general descriptive names, trade names, trademarks, and so forth in this publication, even if not specifically identified, does not imply that these names are not protected by the relevant laws and regulations. While the advice and information in this journal are believed to be true and accurate on the date of its going to press, neither the authors, the editors, nor the publisher can accept any legal responsibility for any errors or omissions that may be made. The publisher makes no warranty, express or implied, with respect to the material contained herein.
 TNHJ also supports open access archiving of articles published in the journal after three months of publication.  Authors are permitted and encouraged to post their work online (e.g, in institutional repositories or on their website) within the stated period, as it can lead to productive exchanges, as well as earlier and greater citation of published work (See The Effect of Open Access). All requests for permission for open access archiving outside this period should be sent to the editor via email to editor@tnhjph.com.