Single shot spinal anaesthesia for emergency Caesarean section in an Achondroplastic parturient
Keywords:
Anaesthesia, Obstetrics, single shot spinal technique, achondroplasia.
Abstract
Aim: The use of the single shot spinal anaesthesia for Caesarean delivery is now a common practice worldwide. This paper highlights the use of this anaesthetic technique on a parturient with achondroplasia that presented at term with obstructed labour and had a Caesarean delivery.
Method: The patient did not receive any antenatal care prior to presentation. She had moderate to severe dehydration with some oliguria. She was adequately resuscitated and had an emergency Caesarean section under a single shot spinal anaesthesia.
Result: She had a live baby with good Apgar scores. The postoperative period was uneventful and was discharged home on the 8th postoperative day.
Conclusion: This paper highlights a parturient with a unique physiognomy that could the challenge the unprepared anaesthetist. 
References
Murphy CG, Chrea B, Molloy AP, Nicholson P. Small is challenging; distal femur fracture management in an elderly lady with achondroplastic dwarfism. BMJ Case Rep. 2013 Mar 20; 2013. pii: bcr2013008793. doi: 10.1136/bcr-2013-008793.
Murdoch JL, Walker BA, Hall JG, Abbey H, Smith KK, Mckusick VA. Achondroplasia-a genetic and statistical survey. Ann Human Genetics 1970; 33: 227-244
Morrow MJ, Black JH. Epidural anaesthesia for Caesarean section in an achondroplastic dwarf. Br J Anaesthesia 1998; 81: 619-621
Rukewe A, Morhason-Bello IO, Fatiregun A, Orji M. Combined Spinal and epidural anaesthesia for an elective Caesarean section in a patient with achondroplasia. S Afr J Anaesthesiol Analg 2012; 18: 348-350
Ekwere IT, Edomwonyi NP, Imarengiaye CO. Afr J Reprod Health 2010; 14: 149-155
Zilberman P. A proposed mathematical model for calculating local anesthetic doses for Cesarean sections (and not only). http://www.csen.com/PAUL.ppt.
Mayhew JF, Katz J, Miner M, Leiman BC, Hall ID. Anaesthesia for the achondroplastic dwarf. Can Anaesth Soc J 1986 Mar;33(2):216–21
Hall JG. Special problems of anaesthesia for little people. http//www.1po.on.ca/ANAESTHESIA.HTM
Sukanya M, Nilanjan D, Gomber KK Emergency esarean section in a patient with Achondroplastia: An Anesthetic Dilemma. J Anesth Clin Pharmacol 2007; 23: 315-318
Saxena KN, Kapoor D, Taneja B, et al. Anaesthetic management of Caesarean section in an achondroplastic dwarf. Indian J Anesth 2008; 52: 844
DeRenzo JS, Vallejo MC, Ramanathan S. Failed regional anaesthesia with reduced spinal bupivacaine dosage in a parturient with achondroplasia presenting for urgent caesarean section. Int J Obstet Anaesth 2005; 14: 175-178
Crawford M, Dutton DA. Spinal anaesthesia for Caesarean section in an achondroplastic dwarf. Anaesthesia (Letter) 1992; 47: 1007
Sunanda G, Reema M, Prem RN. Combined spinal epidural anaesthesia for myomectomy in an achondroplastic dwarf. Indian J Anaesth 2005; 49: 430-431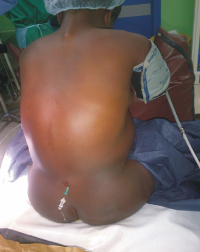 Downloads
How to Cite
Otokwala, J. G., & Fyneface-Ogan, S. (2018). Single shot spinal anaesthesia for emergency Caesarean section in an Achondroplastic parturient. The Nigerian Health Journal, 17(4), 184–189. Retrieved from https://tnhjph.com/index.php/tnhj/article/view/353
Section
Case Report and Series
License
Copyright (c) 2018 The Nigerian Health Journal
This work is licensed under a Creative Commons Attribution-NonCommercial-NoDerivatives 4.0 International License.
The Journal is owned, published and copyrighted by the Nigerian Medical Association, River state Branch.  The copyright of papers published are vested in the journal and the publisher.  In line with our open access policy and  the Creative Commons Attribution License policy authors are allowed to share their work with an acknowledgement of the work's authorship and initial publication in this journal.
This is an open access journal which means that all content is freely available without charge to the user or his/her institution. Users are allowed to read, download, copy, distribute, print, search, or link to the full texts of the articles in this journal without asking prior permission from the publisher or the author.
The use of general descriptive names, trade names, trademarks, and so forth in this publication, even if not specifically identified, does not imply that these names are not protected by the relevant laws and regulations. While the advice and information in this journal are believed to be true and accurate on the date of its going to press, neither the authors, the editors, nor the publisher can accept any legal responsibility for any errors or omissions that may be made. The publisher makes no warranty, express or implied, with respect to the material contained herein.
 TNHJ also supports open access archiving of articles published in the journal after three months of publication.  Authors are permitted and encouraged to post their work online (e.g, in institutional repositories or on their website) within the stated period, as it can lead to productive exchanges, as well as earlier and greater citation of published work (See The Effect of Open Access). All requests for permission for open access archiving outside this period should be sent to the editor via email to editor@tnhjph.com.