Antibiotic Prescription Patterns in Paediatric Wards of Rivers State University Teaching Hospital, Southern Nigeria: A Point Prevalence Survey
Keywords:
Infection, Stewardship, Paediatrics, Prescriptions, Antibiotic
Abstract
Background: Antimicrobial resistance remains a threat to patient safety and healthcare outcomes and largely arises from inappropriate antimicrobial prescriptions. This study aimed to determine the pattern of antibiotic prescriptions in the Paediatrics department of Rivers State University Teaching Hospital, Port Harcourt.
Method: A point prevalence survey was conducted in the Paediatric wardsand Special Care Baby Unit (SCBU) on 13 November 2021. Records of all children admitted before or at 8:00 a.m. on the day of the survey were descriptively analysed using the protocol and web-based management system of the Global Point Prevalence Survey of Antimicrobial Consumption and Resistance, University of Antwerp.
Results: The antibiotic prevalence in this study was 77.4%. The most common indication(s) for antibiotic use in SCBU was infection prophylaxis (81.3%) and in paediatric wards: Pneumonia, Ear Nose Throat and Soft tissue infections accounted for (23.1%) each. Third-generation cephalosporins and aminoglycosides were predominantly used in all wards and were empirical-based prescriptions. Regarding antibiotic quality indicators of prescriptions: In SCBU: 19 (90.5%) had indication(s) for antibiotics documented, 10 (46.7%) were guideline compliant, and 1 (4.8%) had documented review/stop date. In the paediatric medical and surgical wards, 17(85.0%) vs. 4(100%) had indication(s) for antibiotics documented, 6(30.0%) vs. 0(0%) were guideline compliant, and 1(5.0%) vs. 4(100.0%) had a review/ stop date.
Conclusion: High prevalence of antibiotic use, suboptimal antibiotic quality indicators and absence of laboratory evidence for antibiotic prescriptions were observed in the paediatric units. There is a need to reorientate prescribers and institute strategic measures to improve antimicrobial stewardship. 
References
Abubakar U, Salman M. Antibiotic Use Among Hospitalized Patients in Africa: A Systematic Review of Point Prevalence Studies. J Racial Ethn Health Disparities. 2023 doi:10.1007/s40615-023- 01610-9
World Health Organization. Antimicrobial resistance: global report on surveillance. World Health Organization, Geneva; 2014. Available
from: https://www.who.int/publications/i/item/978924 1564748
Mustafa ZU, Khan AH, Salman M, Syed Sulaiman Mustafa ZU, Khan AH, Salman M, Syed, Sulaiman SA, Godman B. Antimicrobial Utilization among Neonates and Children: A Multicenter Point Prevalence Study from Leading Children's Hospitals in Punjab, Pakistan. Antibiot Basel Switz. 2022;11(8): 1056.doi:10.3390/antibiotics11081056
Pauwels I, Versporten A, Vermeulen H, Vlieghe E, Goossens H. Assessing the impact of the Global Point Prevalence Survey of Antimicrobial Consumption and Resistance (Global-PPS) on hospital antimicrobial stewardship programmes: results of a worldwide survey. Antimicrob Resist Infect Control. 2021;10(1):138. doi: 10.1186/s13756-021-01010-w
Tanko N, Bolaji RO, Olayinka AT, Olayinka BO. A systematic review on the prevalence of extendedspectrum beta-lactamase-producing Gram-negative bacteria in Nigeria. J Glob Antimicrob Resist. 2020;22:488–96.
Obakiro SB, Napyo A, Wilberforce MJ, Adongo P, Kiyimba K, Anthierens S, et al. Are antibiotic prescription practices in Eastern Uganda
concordant with the national standard treatment guidelines? A cross-sectional retrospective study. JGlob Antimicrob Resist. 2022;29:513–9.
Manga MM, Mohammed Y, Suleiman S, Fowotade A, Yunusa-Kaltungo Z, et al., Antibiotic prescribing habits among primary healthcare workers in Northern Nigeria: a concern for patient safety in the era of global antimicrobial resistance. PAMJ - One Health. 2021; 5:19. [doi: 10.11604/pamjoh.2021.5.19.30847]
Monegro AF, Muppidi V, Regunath H. HospitalAcquired Infections. In: StatPearls. Treasure Island (FL): StatPearls Publishing; 2023 [cited 2023 Sep 4]. Available from: http://www.ncbi.nlm.nih.gov/books/NBK44185 7/
Kallen MC, Prins JM. A Systematic Review of Quality Indicators for Appropriate Antibiotic Use in Hospitalized Adult Patients. Infect Dis Rep. 2017;9(1):6821. [doi:10.4081/idr.2017.6821]
Siachalinga L, Godman B, Mwita JC, Sefah IA, Ogunleye OO, Massele A, et al. Current Antibiotic Use Among Hospitals in the sub-Saharan Africa Region; Findings and Implications. Infect Drug Resist. 2023;16:2179–90.
Umeokonkwo CD, Madubueze UC, Onah CK, Okedo-Alex IN, Adeke AS, Versporten A, et al. Point prevalence survey of antimicrobial
prescription in a tertiary hospital in South East Nigeria: A call for improved antibiotic stewardship. J Glob Antimicrob Resist. 2019;17:291–5.
Oduyebo O, Olayinka A, Iregbu K, Versporten A, Goossens H, Nwajiobi-Princewill P, et al. A point prevalence survey of antimicrobial prescribing in four Nigerian Tertiary Hospitals. Ann Trop Pathol. 2017;8(1):42.
Oshun PO, Roberts AA, Osuagwu CS, Akintan PE, Fajolu IB, Ola-Bello OI, et al. Roll out of a successful antimicrobial stewardship programme in Lagos University Teaching Hospital Nigeria using the Global-Point Prevalence Survey. Afr J Clin Exp Microbiol. 2021 Apr 8;22(2):260–72.
Shuaibu M, Ramatu AZ, Lawal H. Point Prevalence Study of Antibiotics use in Paediatric Wards of a Tertiary Health Facility in Kaduna Nigeria. Int J Innov Sci Res Technol. 2023;8(1):555–62.
Manga MM, Ibrahim M, Hassan UM, Joseph RH, Muhammad AS, Danimo MA, et al. Empirical antibiotherapy as a potential driver of antibiotic resistance: observations from a point prevalence survey of antibiotic consumption and resistance in Gombe, Nigeria. Afr J Clin Exp Microbiol. 2021;22(2):273–8.
Mambula G, Nanjebe D, Munene A, Guindo O, Salifou A, Mamaty AA, et al. Practices and challenges related to antibiotic use in paediatric treatment in hospitals and health centres in Niger and Uganda: a mixed methods study. Antimicrob Resist Infect Control. 2023;12(1):67. https://doi.org/10.1186/s13756-023-01271-7
Akintan P, Oshun P, Osuagwu C, Ola-Bello O, Fajolu I, Roberts A, et al. Point Prevalence Surveys of Antibiotic Prescribing in Children at a Tertiary Hospital in a resource constraint, low- income subSaharan African country. In Review; 2022 [cited 2023 Aug 12]. Available from:
https://www.researchsquare.com/article/rs- 2165984/v1
Awopeju A, Robinson N, Ossai-Chidi L, Jonah A, Alex-Wele M, Oboro I, et al. Point Prevalence Survey of Antimicrobial Prescription and Indicators in a Tertiary Healthcare Center in Southern Nigeria. South Asian J Res Microbiol. 2023;15:1–9.
Ekuma A, Ijezie E, Akpabio T, Onwuezobe I. Survey of antimicrobial consumption in a university teaching hospital in Southern Nigeria. Ann Trop Pathol. 2019;10(1):48-51.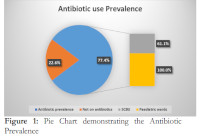 How to Cite
Briggs , D., Oboro , I., Bob-Manuel , M., Amadi , S., Enyinnaya , S., Lawson , S., & Dan-Jumbo , A. (2023). Antibiotic Prescription Patterns in Paediatric Wards of Rivers State University Teaching Hospital, Southern Nigeria: A Point Prevalence Survey. The Nigerian Health Journal, 23(3), 837–843. Retrieved from https://tnhjph.com/index.php/tnhj/article/view/741
Section
Original Articles
License
Copyright (c) 2023 Journal and Publisher
This work is licensed under a Creative Commons Attribution-NonCommercial-NoDerivatives 4.0 International License.
The Journal is owned, published and copyrighted by the Nigerian Medical Association, River state Branch.  The copyright of papers published are vested in the journal and the publisher.  In line with our open access policy and  the Creative Commons Attribution License policy authors are allowed to share their work with an acknowledgement of the work's authorship and initial publication in this journal.
This is an open access journal which means that all content is freely available without charge to the user or his/her institution. Users are allowed to read, download, copy, distribute, print, search, or link to the full texts of the articles in this journal without asking prior permission from the publisher or the author.
The use of general descriptive names, trade names, trademarks, and so forth in this publication, even if not specifically identified, does not imply that these names are not protected by the relevant laws and regulations. While the advice and information in this journal are believed to be true and accurate on the date of its going to press, neither the authors, the editors, nor the publisher can accept any legal responsibility for any errors or omissions that may be made. The publisher makes no warranty, express or implied, with respect to the material contained herein.
 TNHJ also supports open access archiving of articles published in the journal after three months of publication.  Authors are permitted and encouraged to post their work online (e.g, in institutional repositories or on their website) within the stated period, as it can lead to productive exchanges, as well as earlier and greater citation of published work (See The Effect of Open Access). All requests for permission for open access archiving outside this period should be sent to the editor via email to editor@tnhjph.com.