Lipomas In The Oro-Facial And Neck Region: An Overview Of Cases Treated In A Teaching Hospital, North-West, Nigeria.
Keywords:
Lipoma, tumour, adipocytes, oro-facial, neck, cheek.
Abstract
Background: Lipoma is a benign tumour of adipose tissue and is one of the most common benign neoplasms of the body. However, its occurrence in the head and neck region is very rare.
Objective: To present the clinical features and management of lipoma of oro-facial and neck region in our Centre.
Methods: The study was a retrospective review of case files of patients that were treated in our Centre for lipoma in the oro-facial and neck region from January, 2010 to April, 2020.
Results: Twenty-nine cases were included in the study. Majority of the cases occurred in the age group 51 – 60 years (n=8, 34.5%), the least affected was age group 21 - 30 (n=2, 6.7%). Twenty-two (76%) occurred in males, while seven (24%) in females at the ratio of 3:1. It was commoner in the cheek (n=8, 27.6%), followed by the submandibular region (n=7, 24.1%) and occurred least in the sublingual region (n=2, 7.0%). Surgical excision was the modality of treatment for all our cases.
Conclusion: Lipoma could cause facial disfigurement and surgical excision is the ideal treatment with excellent outcome. Magnetic Resonance Imaging and histopathological investigation are essential in the management of lipoma.
References
Medina CR, Mitra A, Spears J, Mitra A. Giant submental lipoma; Case report and review of the literature. Can J Plast Surg 2007;15:219-22. .
Sohn WI, Kim JH, Jung SN, Kwon H, Cho KJ. Intramuscular lipoma of the sternocleidomastoid muscle. J Craniofac Surg 2010;21:1976.
Song HJ, Hong WK, Lee HS, Shin JH, Choi GS. Intramuscular lipoma of the sternocleidomastoid muscle. J Eur Acad Dermatol Venereol 2008;22:363-64.
Gutknecht DR. Painful Intramuscular lipoma of the thigh. South Med J 2004;97:1121-22
Dispenza F, De Stefano A, Romano G, Mazzoni A. Post -traumatic lipoma of the parotid gland; case report. Acta Otorhinolaryngol Ital 2008; 28:87-88.
Papero F, Massarelli, Giuliani G. A rare case of parotid gland lipoma arising from the deep lobe of the parotid gland. Annals maxillofacial Surg.2016; 6(2): 308-10.
Saenz MAM, Ortiz VJV, Galindo GAS. Dyspnoea and dysphagia associated to hypopharyngeal fibrolipoma; A case report. Ann Med Surg 2017;16:30-3.
Shetty N, Shabari UB, Jaydeep NA, Patnaik P. Solitary lipoma in the retromandibular region. Indian journal of dentistry 2015;6(1):49-52.
Hemavathy S, Roy S. Intraosseous angiolipoma of the mandible. Journal of oral and maxillofacial pathology 2012;16(2):283-7.
Furlong MA, Fanburg-Smith JC, Childers EL. Lipoma of the oral and maxillofacial region; Site and subclassification of 125 cases. Oral Surg Oral Med Oral Pathol Oral Radiol Endodontics 2004;98:441-50.
Lawoyin JO, Akande OO, Kolude B, Agbaje JO. Lipoma of the oral cavity; clinicopathological review of seven cases from Ibadan. Niger J Med 2001;10(4):189-91. PubMed.
Neville B. Damm DD, Allen CM, Bouquot J. Philadelphia; Saunders; 2008. Oral and Maxillofacial Pathology; pp.523-4.
Chidzonga MM, Mahomva L, Marimo C. Gigantic tongue lipoma; a case report. Med Oral Pathol. 2007;5:64-70.
Fregnani ER, Pires FR, Falzoni R, Lopes MA, Vargas PA. Lipomas of the oral cavity; clinical findings, histological classification and proliferative activity of 46 cases. Int J Oral Maxillofacial Surg.2003;32(1):49-53.
Sathyaki DC, Roy MS. Lipomas head and neck. In J Otorhinolaryngol Head Neck Surg 2018;4:368-71.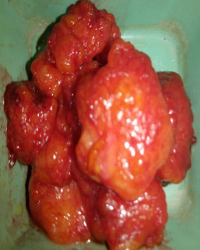 Downloads
How to Cite
Oluleke, O. O., Zubairu, R. A., & Ogunsina, A. M. (2022). Lipomas In The Oro-Facial And Neck Region: An Overview Of Cases Treated In A Teaching Hospital, North-West, Nigeria. The Nigerian Health Journal, 21(4), 203–211. Retrieved from https://tnhjph.com/index.php/tnhj/article/view/531
Section
Original Articles
License
Copyright (c) 2022 The Nigerian Health Journal
This work is licensed under a Creative Commons Attribution-NonCommercial-NoDerivatives 4.0 International License.
The Journal is owned, published and copyrighted by the Nigerian Medical Association, River state Branch.  The copyright of papers published are vested in the journal and the publisher.  In line with our open access policy and  the Creative Commons Attribution License policy authors are allowed to share their work with an acknowledgement of the work's authorship and initial publication in this journal.
This is an open access journal which means that all content is freely available without charge to the user or his/her institution. Users are allowed to read, download, copy, distribute, print, search, or link to the full texts of the articles in this journal without asking prior permission from the publisher or the author.
The use of general descriptive names, trade names, trademarks, and so forth in this publication, even if not specifically identified, does not imply that these names are not protected by the relevant laws and regulations. While the advice and information in this journal are believed to be true and accurate on the date of its going to press, neither the authors, the editors, nor the publisher can accept any legal responsibility for any errors or omissions that may be made. The publisher makes no warranty, express or implied, with respect to the material contained herein.
 TNHJ also supports open access archiving of articles published in the journal after three months of publication.  Authors are permitted and encouraged to post their work online (e.g, in institutional repositories or on their website) within the stated period, as it can lead to productive exchanges, as well as earlier and greater citation of published work (See The Effect of Open Access). All requests for permission for open access archiving outside this period should be sent to the editor via email to editor@tnhjph.com.