Pattern and Determinants of Outcomes of Neurological Emergencies admitted into Children Emergency Ward in a Tertiary Hospital in Port Harcourt, Nigeria
Keywords:
tertiary hospital, Pattern, Outcome, Neurological Emergencies, Children Emergency Room
Abstract
Background: Neurological emergencies are life-threatening central nervous system disorders, significantly contributing to childhood morbidity and mortality. The sequelae may be irreversible and may impact negatively on the quality of life of affected children and their families. This study identified the morbidity pattern and determinants of the outcomes of children with
neurological emergencies in the Children Emergency Room (CHER) of the Rivers State University Teaching Hospital (RSUTH).
Method: A 4-year retrospective study was carried out in the CHER. Data on demography, diagnosis and outcomes of children with neurological disorders were extracted from the records. Data analysed with SPSS 24 were expressed in percentages and frequency tables.
Results: Of the 3040 children admitted in the CHER, 364(12%) aged 0-15 years had neurological emergencies, commoner among males (59.3%) and children aged less than five years (70.9%). Meningitis (40.2%) and febrile convulsion (28.2%) were the topmost diagnoses made. Raised intracranial pressure (17.4%) and head injuries (25.5%) were significantly more prevalent among children aged five years and above. The mortality rate was 61(16.8%) and more among adolescents (30.6%). All the mortalities took place within the first 48hours of admission especially among those with head injuries (46.5%) and perinatal asphyxia (95%), (p < 0.05).
Conclusion: Meningitis and febrile convulsion were the commonest neurologic emergencies seen in this study. Mortality rate was high, especially in the first 48 hours of admission and mainly from perinatal asphyxia and head injuries. Education on the prevention and management of neurologic emergencies should be strengthened.
References
Moreau JF, Fink EL, Hartman ME, Angus DC, Bell MJ, Linde-Zwirble WT, et al. Hospitalizations of children with neurologic disorders in the United States. Pediatr Crit Care Med. 2013;14(8):801–810.
Abbas Q, Shabbir A, Siddiqui NR, Kumar R, Haque A. Burden of neurological illnesses in a pediatric intensive care unit of developing country. Pak J Med Sci. 2014 Nov-Dec;30(6):1223-7. doi: 10.12669/pjms.306.5671. PMID: 25674112; PMCID: PMC4320704.
LaRovere KL, Graham RJ, Tasker RC; Pediatric Critical Nervous System Program (pCNSp). Pediatric neurocritical care: a neurology
consultation model and implication for education and training. J Pediatr Neurol. 2013;48(3):206-11. doi: 10.1016/j.pediatrneurol.2012.12.006. PMID: 23419471.
Mastrangelo M, Baglioni V. Management of Neurological Emergencies in Children: An Updated Overview. Neuropediatrics. 2021 Aug;52(4):242- 251. doi: 10.1055/s-0041-1730936. Epub 2021 Jun 30. PMID: 34192789.
Ndukwu CI, Onah SK. Pattern and outcome of postneonatal pediatric emergencies in Nnamdi Azikiwe University Teaching Hospital, Nnewi, South East Nigeria. Niger J Clin Pract. 2015 MayJun;18(3):348-53. doi: 10.4103/1119-3077.1 3246. PMID: 25772917.
Akpan MU, Utuk EEU. Pattern of paediatric neurological emergencies in university of Uyo Teaching Hospital, Uyo, Akwa-Ibom state of
Nigeria. Ibom Med J. 2014; 7(1): 13-18.
Mc Gil Ugwu GI. Pattern and outcome of paediatric admissions in a tertiary hospital in the Niger Delta region of Nigeria: a two year
prospective study. Int J Med Applied Sci. 2012;1(1):15- 29.
Ngoué J E, Um S S N, Nengom J T, Nkwele I M, Doka H K, Ngambi M O, Epée E, Awa H D M. Incidence and pattern of neurologic emergencies in children at the mother and child center of the chantal biya foundation. Pediatr Oncall J. 2022. doi:
7199/ped.oncall.2022.47.
Gürbüz G, İşgüder R, Ceylan G, Ağın H, Ünalp A. Evaluation of patients admitted to the paediatric intensive care unit due to neurological problems. J Dr Behcet Uz Child Hosp. 2018; 8(3): 229- 234. DOI: 10.5222/buchd.2018.46872.
Falsaperla R, Vitaliti G, Sciacca M, Tardino L, Marino SD, Marino S, Moscheo C, Meli M, Vitaliti MC, Barbagallo M, Di Stefano VA, Saporito MAN, Ruggieri M. Neonatal neurologic emergencies requiring access to paediatric emergency units: a retrospective observational study. Sci Rep. 2022;12(1):10273. doi: 10.1038/s41598-022-13703- 2. PMID: 35715441; PMCID: PMC9205415.
Ofovwe GE, Ibadin MO, Okunola PO, Ofoegbu B. Pattern of emergency neurologic morbidities in children. J Natl Med Assoc. 2005;97(4):488-92. PMID: 15871144; PMCID: PMC2568732.
Tshimangani T, Pongo J, Bodi Mabiala J, Yotebieng M, O'Brien NF. Pediatric Acute Severe Neurologic Illness and Injury in an Urban and a Rural Hospital in the Democratic Republic of the Congo. Am J Trop Med Hyg. 2018;98(5):1534-1540. doi: 10.4269/ajtmh.17-0784.
Lucas MJ, Brouwer MC, van de Beek D. Neurological sequelae of bacterial meningitis. J of Infect. 2016;73(1):18-27.
Wikipedia. Geography of Rivers State. Available:https://www.wikepedia.org/wiki/Rivers_State Accessed 18/05/2022.
Iloeje SO. Paediatric neurologic emergencies at the University of Nigeria Teaching Hospital, Enugu. West Afr J of Med. 1997;16(2):80-84. PMID: 9257541.
Ibeziako SN, Ibekwe RC. Pattern and Outcome of admissions in the Children's Emergency Room of the University of Nigeria Teaching Hospital Enugu. Nigerian Journal of Paeditrics, 2002. 29(4):103-7
Personnic J, Titomanlio L, Auvin S, DozièresPuyravel B. Neurological disorders encountered in a pediatric emergency department. Euro J of Paed Neuro. 2021; 32: 86-92. doi:10.1016/j.ejpn.2021.03.017.
Okechukwu AA, Nwalozie C. Morbidity and mortality pattern of admissions into the Emergency Paediatric Unit of University of Abuja Teaching Hospital, Gwagwalada. Nigerian Journal of Medicine: Journal of the Nat Assoc of Res Doctors of Nigeria. 2011;20(1):109-113. PMID: 21970271.
Ida, P. , Mireille-Laurent, E. , Francine, S. , Lariale, M. , Charlotte, E. , Bertrand, E. et al. Epidemiological Profile of Pediatric Vital
Emergencies at Laquintinie Hospital of Douala, Cameroon. Open J of Ped, 2021. 11, 148-160. doi: 10.4236/ojped.2021.111014.
Udoh, DO, Adebolajo AA. Traumatic brain injuries in children: A hospital-based study in Nigeria. Afr J Paed Surg 2013;10(2): 154-9. doi:10.4103/0189- 6725.115043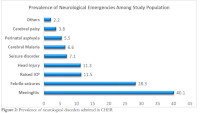 How to Cite
Wonodi , W., & Okari , T. (2023). Pattern and Determinants of Outcomes of Neurological Emergencies admitted into Children Emergency Ward in a Tertiary Hospital in Port Harcourt, Nigeria. The Nigerian Health Journal, 23(3), 772–779. Retrieved from https://tnhjph.com/index.php/tnhj/article/view/729
Section
Original Articles
License
Copyright (c) 2023 Journal and Publisher
This work is licensed under a Creative Commons Attribution-NonCommercial-NoDerivatives 4.0 International License.
The Journal is owned, published and copyrighted by the Nigerian Medical Association, River state Branch.  The copyright of papers published are vested in the journal and the publisher.  In line with our open access policy and  the Creative Commons Attribution License policy authors are allowed to share their work with an acknowledgement of the work's authorship and initial publication in this journal.
This is an open access journal which means that all content is freely available without charge to the user or his/her institution. Users are allowed to read, download, copy, distribute, print, search, or link to the full texts of the articles in this journal without asking prior permission from the publisher or the author.
The use of general descriptive names, trade names, trademarks, and so forth in this publication, even if not specifically identified, does not imply that these names are not protected by the relevant laws and regulations. While the advice and information in this journal are believed to be true and accurate on the date of its going to press, neither the authors, the editors, nor the publisher can accept any legal responsibility for any errors or omissions that may be made. The publisher makes no warranty, express or implied, with respect to the material contained herein.
 TNHJ also supports open access archiving of articles published in the journal after three months of publication.  Authors are permitted and encouraged to post their work online (e.g, in institutional repositories or on their website) within the stated period, as it can lead to productive exchanges, as well as earlier and greater citation of published work (See The Effect of Open Access). All requests for permission for open access archiving outside this period should be sent to the editor via email to editor@tnhjph.com.